A quick look at a sign repair that Eddie is working on. The Fluorescent tubes in this cabinet are ten feet long! Which means a more specialized sign ballast must be used. For starters, a normal sign ballast is out of the question, as they are only compatible with a maximum of up to eight foot fluorescent tubes. Additionally, for this application which uses ten foot tubes, you cannot use three tubes on one ballast (see below). Unfortunately for the previous installer, who worked on this sign about a year ago (based on the condition of the ballasts), this exception was not realized and the ballasts have failed prematurely.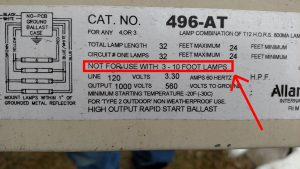 Once we obtained and installed the proper sign ballasts for this application, all is well and Bright!
High Lighting Service Company specializes in all commercial lighting. While we promote the install of energy saving LED lighting, it is not always the right application/timing for a particular customer. Today we installed fluorescent lighting in the sign, and when the time is appropriate we will install LED.
Today's Conclusion:
We installed the correct ballasts.
We replaced burnt out fluorescent tubes.
Our Customer, along with their tenants, are happy.