Have you ever seen blinking LED lights above you in a big-box store? Read on to see how we can solve this dilemma.
In my travels to retail spaces, I usually have a slightly different shopping experience. When most people walk into a store, they first focus on the merchandise. When I walk into a store, I focus on the lighting. Sometimes, the lights are blinking LED. On a recent visit to a big box store, I had another such experience.
What's With The Blinking?
The first thing I noticed when I walked into this particular store was that many of the PAR LEDs were blinking. This happens when the driver malfunctions and is not supplying correct current to the diodes. In addition, some were completely out which meant that the driver or diodes had completely failed. Additionally, many big box stores run their lighting at 277V. We at High Lighting Service Company have found that the lower price, 277v PAR lamps with internal drivers don't do well at that voltage. We suggest using LED fixtures with diodes on beefy aluminum heat sinks along with a driver separated from the heat sink.
Also, in this particular store they had their linear 4' single tube fluorescent fixtures retrofitted to all-plastic LED tubes. I was seeing a fair amount of tube failures and some of the tubes were sagging. We only use ballast bypass aluminum heat-sink tubes for two reasons: 1. For better heat resistance and 2. For more rigidity for the tube.
Why were these LEDs installed in the first place?
Part of the problem that this big box store is having is that early retrofit models of LED just didn't have quality components and are not enduring the time they were marketed to last. Consequently, many of the early LED companies that flooded the market with lower-end tubes are now out of business. As a result, early adopters were sometimes sold the wrong bill of goods. Unfortunately, the issues didn't end there.
Shouldn't the lighting make the merchandise POP?
The other issue I saw was that the lighting didn't seem to do a great job illuminating the merchandise. Early versions of LED lighting retrofits didn't have a very strong CRI rating, nor lumens per watt rating. Like any other technology, it gets better with time. Newer LEDs have better component packages, and higher lumens per watt ratings.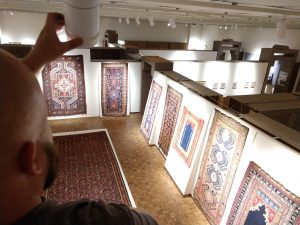 What High Lighting Service would have done
For a situation like this, High Lighting would work out a maintenance program at a specific budget to get the lighting upgraded. We would start by doing a light meter reading and spot testing new, high quality LED lighting fixtures to make sure it improves displays (see how we upgraded the Manoogian Museum here). This will usually increase sales to pay for itself!
Give us a call to assess your current lighting and see how we can help improve your sales!